Click on the KB Training Center Banner for more information on upcoming American Heart Association Classes, EMT/ EMR Initial and EMT/ EMR Refresher Classes.

Is your house number visible at night? If we can't find you, we can't help you. Reflective house and mailbox numbers will help emergency personnel find you. Download a mail-in order form here.
Yesterday:

K-B Ambulance Corps was organized in 1939 as an all volunteer corps serving the towns of Killingly and Brooklyn Connecticut. The original headquarters was established on Furnace Street in Danielson in the current location of The Imperial Room. The first service of its kind in Northeastern Connecticut, K-B Ambulance Corps is the primary emergency medical transport provider for the Town of Killingly.
Today:

K-B Ambulance is a non-profit organization. We routinely assist other area services on a call-by-call basis as needed. With our four ambulances and 1 service truck, we average 243 EMS calls a month. In 1980, K-B moved to its current location on Westcott Road, a former body shop retrofitted to meet the Corps needs. In the early 1990's, the town of Brooklyn formed its own ambulance service with the Mortlake Fire Company.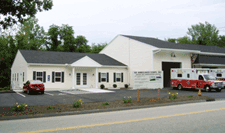 July 2012 – KB Ambulance published our new Training website, where you can find information on any upcoming classes being held here at KB Ambulance.
Staff:
In 1995 K-B added a full-time paid administrator, one part-time and two full-time Emergency Medical Technicians (EMT). Today, the full time K-B staff consists of an Administrator, Operations Manager, Supervisor and 6 full time EMTs and 1 part time EMTs.
Paid crews now protect our community Monday thru Friday, 12 a.m.- 6 p.m., and 24 hours a day Saturday and Sunday. They are supplemented by a force of 26 volunteer EMTs and 24 Emergency Medical Responders. They cover the time when paid staff is not on duty and also handle any second, third and fourth crew calls.
On September 10, 2016 we held our annual banquet at Grill 37 in Pomfret to honor our members, past and present. The venue was spectacular, the food was great and fun was had by all. Members Honored at this years banquet were:
5 years of service
Ray W.
10 years of service
Will J.
Life Member
Jason E.
Eric D.
Will J.
Most Calls Paid Staff
Duane A.
Eric L.
Most Calls Volunteer
Angie S.
Hannah B.
Most Second Crew Calls
Cathy W.
Patrick G.
Eric L.
Kevin C.
EMT Of The Year
Mary-Beth S.
EMR Of The Year
James M.
KB Training Center
Emergency Medical Services training, basic emergency life support classes for certification of individuals working with children and in health care settings. Visit the KB Training Website for more information.
Join K-B
We are looking for individuals who want to serve their community. K-B Ambulance Corps, Inc is an equal opportunity employer.
Contact
K-B Ambulance Corps, Inc
P.O. Box 209
294 Westcott Road
Danielson, CT 06239
Phone: 860-774-7625 • Fax: 860-779-2069
Business Hours:
Monday – Friday: 8:00 am – 4:00 pm EST