K-B Ambulance Corps, Inc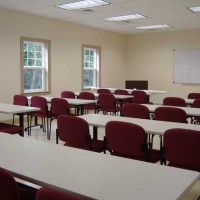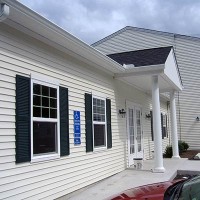 KB Ambulance Training Center offers several National EMS and AHA Classes. Please Click here to visit the training center web site.


Is your house number visible at night? If we can't find you, we can't help you. Reflective house and mailbox numbers will help emergency personnel find you. Download a mail-in order form here.
Yesterday:

K-B Ambulance Corps was organized in 1939 as an all volunteer corps serving the towns of Killingly and Brooklyn Connecticut. The original headquarters was established on Furnace Street in Danielson in the current location of The Imperial Room. The first service of its kind in Northeastern Connecticut, K-B Ambulance Corps is the primary emergency medical transport provider for the Town of Killingly.
Today:

K-B Ambulance is a non-profit organization. We routinely assist other area services on a call-by-call basis as needed. With our four ambulances and 1 service truck, we average 243 EMS calls a month. In 1980, K-B moved to its current location on Westcott Road, a former body shop retrofitted to meet the Corps needs. In the early 1990's, the town of Brooklyn formed its own ambulance service with the Mortlake Fire Company.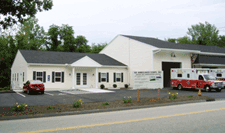 July 2012 – KB Ambulance published our new Training website, where you can find information on any upcoming classes being held here at KB Ambulance.
Staff:
In 1995 K-B added a full-time paid administrator, one part-time and two full-time Emergency Medical Technicians (EMT). Today, the full time K-B staff consists of an Administrator, Operations Manager, Supervisor and 6 full time EMTs and 1 part time EMTs.
Paid crews now protect our community Monday thru Friday, 12 a.m.- 6 p.m., and 24 hours a day Saturday and Sunday. They are supplemented by a force of 26 volunteer EMTs and 24 Emergency Medical Responders. They cover the time when paid staff is not on duty and also handle any second, third and fourth crew calls.
| | |
| --- | --- |
| | |
| Josh Kusek, ALS Supervisor | Raymond Wood, BLS Supervisor |
Josh Kusek has been promoted to the ALS (Advanced Life Support) Supervisor. A paramedic since 2013 and engaged in Emergency Medical Services (EMS) as an Emergency Medical Technician (EMT) for the past 14 years, Mr. Kusek joined KB Ambulance as a part time paramedic in 2015 and transitioned to full time in 2017. At KB Ambulance, Mr. Kusek has been responsible for oversight of quality assurance of its paramedic program and the care/maintenance of all of vehicles for over a year.
As a newly certified Connecticut Emergency Medical Services Instructor, Mr. Kusek will be involved in teaching classes at KB Training Center for EMS new licensing and recertification courses.
Mr. Kusek also currently works part-time as EMS Administrator at Community Fire Company in North Grosvenordale, CT. pare
Prior to his employment at KB Ambulance, Mr. Kusek served as an EMT at American Medical Response (AMR) in Hartford, CT and as a paramedic at AMR in Putnam, CT. In addition, he was a paramedic at Webster EMS in MA.
Mr. Kusek dedicated himself to fire and emergency medical services at the early age of 17 as a member of both Community Fire Company and East Thompson Fire Department. He demonstrates passion in his service, often teaching and mentoring region-wide EMS providers.
Raymond Wood has been promoted to the BLS (Basic Life Support) Supervisor. Mr. Wood is a lifelong resident of Killingly who joined KB Ambulance in 2011 as a volunteer Emergency Medical Technician (EMT). In 2012 he was hired as a part time paid EMT, and in 2013 he transitioned to full time. Throughout his service with the Corps, he has overseen Quality Assurance, managed BLS supply inventory, and scheduled BLS volunteer and paid staff. Mr. Wood prides himself in his work ethic of "whatever it takes to get the job done."
Mr. Wood assists in the KB Ambulance Training Center teaching many new BLS providers the skills necessary to provide quality care throughout the region. He is currently an American Heart Association Basic Life Support Cardiopulmonary Resuscitation (CPR) and First Aid Instructor.
Mr. Wood is pursuing his Emergency Medical Services Instructor certification through the State of Connecticut to gain even more tools in providing quality education to KB Ambulance staff and KB Training Center students. Mr. Wood finds greatest reward in training new EMT's in patient assessment and treatment skills necessary to save lives.
Mr. Wood also works part time in Brooklyn, CT as the Site Manager and EMT for the Mortlake Fire Company for VINTECH Management Services LLC, and he is employed part time as a dispatcher in Putnam, CT for the Putnam Police Department (Station WA).
KB Training Center
Emergency Medical Services training, basic emergency life support classes for certification of individuals working with children and in health care settings. Visit the KB Training Website for more information.
Join K-B
We are looking for individuals who want to serve their community. K-B Ambulance Corps, Inc is an equal opportunity employer.
Contact
K-B Ambulance Corps, Inc
P.O. Box 209
294 Westcott Road
Danielson, CT 06239
Phone: 860-774-7625 • Fax: 860-779-2069
Business Hours:
Monday – Friday: 8:00 am – 4:00 pm EST